'Are We There Yet?' – An Edinburgh father who dropped everything to travel the world with his family has released a book on their experience
NewsPeople
After more than three years in the works, Are We There Yet ?, a book about the year an Edinburgh family dropped and traveled the world, is available today.
Friday, March 5, 2021, 7:00 a.m.
"/>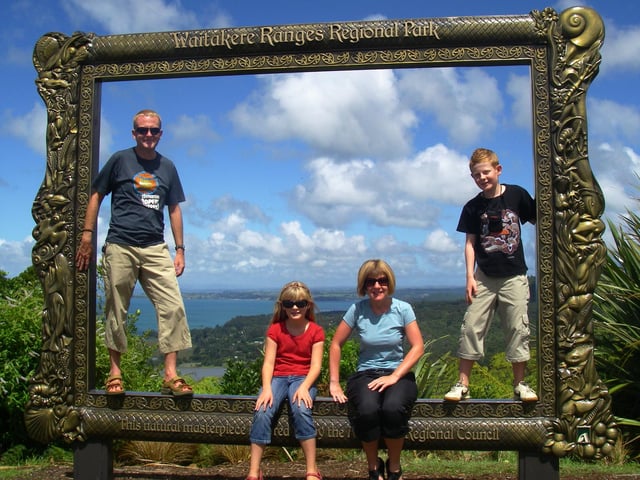 Ian, Anne, Rory and Roonagh in New Zealand in 2008.
Writer Ian Pilbeam, an Edinburgh-based HR director, hopes his words will provide a much-needed escape for people stuck at home due to the coronavirus pandemic.
The book is about the Pilbeam family, Ian, now 54, his wife Anne and children Rory, 22, and Roonagh, 20, when they uprooted their lives for a year in 2008, leaving their family in Dunbar to see around the world to hike.
register

to our daily newsletter
The i newsletter

Cut through the noise

The book explores all the fun they had, from swimming with sea lions in the Galapagos Islands to taking a hot air balloon ride in China, but Ian believes it's more than that.

"/> Rory and Roonagh in Madagascar.

He said, "It's a heartwarming, funny, and sometimes tearful story about what can happen when you take massive risks, take young children out of school and quit a secure job just before a recession.

"It really changed our lives."

Their first stop was Cape Town, and from there the family traveled all over Machu Picchu to Madagascar to complete their twelve month trip in Rio.

At the time, his children were eight and ten years old and the most common question Ian answered was, "How did you teach them at home?"

"/> Ian Pilbeam. (Image by Blue Sky Photography).

He said, "The simple answer is that the world was their classroom.

"In the pre-Kindle era, finding suitable books on the go was a challenge, compulsively searching through used bookstores and charity stores."

He said that when it came to math, it was all about keeping track of things, adding, "Rory would occasionally take responsibility for the daily budget.

"As our financial controller, he would like to tell me when the daily budget was exhausted and I couldn't indulge in the beer I longed for."

"/> The Pilbeam family in Machu Picchu, Peru.

While the book has been in the works for three years, Ian found the time during the lockdown and ended up writing the first draft of their world tour in just 80 days.

He said, "For many people it will be an escape, an opportunity to explore and understand exotic and interesting places from the comfort of their own homes.

"If you cannot go into the world now, let the world come to you."

When asked if he was careful that people would not appreciate his work while they could not travel themselves, he said it "never even crossed his mind".

He said, "If I had written instructions, it might be because it could be a little frustrating.

"But it's not for everyone, I would hope that people who care about the world see it as a way to remember what it is like and how exciting it can all be."

On Tuesday March 9th, Ian will speak to Ken Hay, Executive Director of the Edinburgh International Film Festival, about how the year abroad came about, what followed when they arrived home, and the long-term benefits the family have enjoyed thanks to their life-changing accomplishments Travel.
A message from the editor: Thank you for reading this article. We need your support more than ever as the changes in consumer habits caused by coronavirus are affecting our advertisers.
If you haven't already, you can support our trusted fact-checked journalism by purchasing a digital subscription.