Grant's Getaways: Bighorns in Oregon's Deschutes County
Grant McOmie leads us into a secret hideaway that feels like a million miles away but is only two hours from Portland.
PORTLAND, Ore. – Oregon's back streets are the best! They can lead you to secret hiding spots like the one less than two hours from Portland: Deschutes River Back Country Byway! It may feel a million miles away, but this is about seeing the thickhorns of the Deschutes River Byway.
At the Lake Billy Chinook near Madras, Oregon is an ancient predator prey game this time of year amid timeless Rimrock land. It's a place where three rivers, Metolius, Crooked, and Deschutes, merge into a seven-mile long water playground.
Paul Patton said the lake has long been a drawing map for eagles too.
"You will see bald eagles and golden eagles in their daily routine," Patton said. "You never know what's going to happen at any of the lookouts and in Overlook Park."
Less than an hour away in Maupin, Oregon, embark on a unique journey along the Deschutes River to explore that provides a direct route to solitude on a gentle road that winds for more than forty miles.
The The Lower Deschutes River Back Country Byway is surrounded by canyon walls that stand over lone boaters who own the river at this time of year. Many of the columnar basalt cliffs reach heights of several hundred meters and here the wildlife biologist Jeremy Thompson observes the movement between the rocks.
"The bighorn sheep's horns glow a little yellow in the sun, and I've heard they call them 'bananas.' That's why I look for bananas on the slopes," remarked Thompson with a smile.
Photos from Grant's Getaways: Deschutes Canyon Bighorns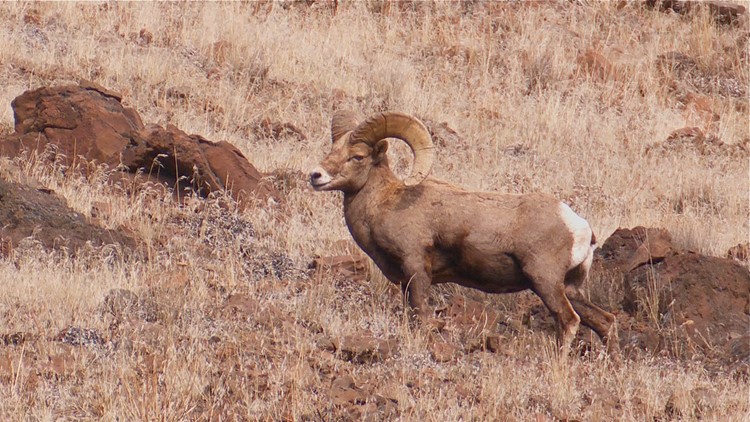 The Deschutes Byway hides bighorns, and it takes a keen eye to pick out the wild sheep that blend so well into the background. The females, called ewes, gather in small flocks, Thompson added.
"They're pretty social and like hanging out together, and there are generally small groups of 10 to 12 people in the fall and winter," he said.
On the other hand, Thompson added that the male Big Horn sheep, called Aries, are more lonely.
"All thick horns have horns, but ewes usually don't get 6 to 7 inches in length and once a ram is over a year old, their horns are much larger," Thompson said. "In fact, the ram grows as you get older, you will see the horns curl far back and are much larger at the base."
Oregon's bighorn sheep died out in the 1940s due to overhunting and disease, but successful reintroduction programs began in the early 1990s. Now the Deschutes River Canyon Big Horn population reaches nearly 600.
If you're traveling to the Deschutes and want to look out for big horns, dress warmly, don't forget your binoculars, and most importantly, bring patience.
"A lot of people will travel the back road and stop and look and not see it," Thompson said. "If you just sit down and watch some of these larger cliff complexes closely, you will eventually see them. They are there!"
I feel a childlike wonder when I visit places like these where geology has worn so well up the landscape's sleeve. This is especially true early in the morning or late in the day. In fact, on a clear day with the sun dancing over the cliffs and the shadows lengthening, the place has a certain eerie feeling. It's a drive that will reset your clock and that you are better for too.
Be sure to keep track of my Oregon adventures over the new Grant's Getaways Podcast I tell behind the scenes stories from nearly four decades of television coverage.
You can also learn more about many of our favorite Oregon trips and adventures in the Grant's Getaways book series, including "Grant's Getaways: 101 Oregon Adventures" "Grant's Getaways: A Guide to Wildlife Viewing in Oregon" and "Grant's Getaways: Oregon Adventure With The Kids. " The collection features hundreds of outdoor activities across Oregon and promises to keep a child of all ages involved.
My next book, Grant's Getaways: Another 101 Oregon Adventures, will be published in 2022.