Jimmy Barnes: 'My demons can struggle amongst themselves. They don't personal me anymore' | Books
I spent most of my childhood killing time and waiting for something to happen. Something good. But it never seemed to come.
As I said in Working Class Boy, my first book, I always hoped my mom and dad would get it together, but they never made it and eventually our family fell apart. So I took my time and fled into my own world, as children often do.
Then I went to school and thought everything was better: I would get away from home and my life would change. Instead, it just led me to a number of other problems. All of a sudden I had to adjust, which was difficult for me, and those pressures made school another scary place. To get through, I kept my head bowed and tried to fly under the radar. Just to kill the time until school is over and I can escape somewhere else.
In the meantime, I've grown up physically, if not emotionally – I wouldn't really grow up for another 50 years or so. As a teenager, I started hanging out in gangs. In those days it was not just about time we wanted to kill, but everything and everyone – especially anyone who got in our way – and sometimes even ourselves. Somehow I managed to survive and get older, even though it wasn't the wiser was, and it wasn't long before I joined a band and took to the streets.
God knows, I've had plenty of time to kill since then. As I said in my second book, Working Class Man, I've been on this path for over 50 years. But I'm going to tell you a little secret here. Rock and roll is not glamorous. You spend most of your time traveling from city to city hoping to get to the next venue in time for your show. This is not always easy and it is often thought that the whole world has conspired to prevent you from getting there.
In the old days, before we had any money, we drove in cars that were real bombs and were held together with tape and prayers. We blew smoke and dripped oil across the land and drove hundreds of miles without turns on dirt roads while staring bored out the windows and trying to pass the time by thinking about where we'd rather be. We ran out of gas in the middle of the night and were stuck in a town with a horse halfway across the Nullarbor Plain with no shop or gas station, and had to scoop gas from a car parked in the shade to get to the next square. Then kill time one more time while you wait for the sun to come up and the servo to open so we can fill up and drive another two scorching hot days to reach our show.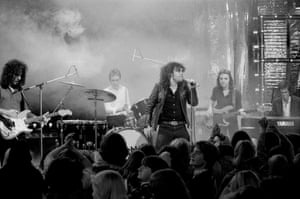 "I'm going to tell you a little secret here. Rock'n'Roll is not glamorous: Cold Chisel appears at Countdown in 1978. Photo: Bob King
As we got better, we could afford to fly occasionally. But the trips could still seem impossible or endless. Sometimes the wind was blowing so hard or the rain falling so hard that the runways were closed. Then you could do one of two things. You could sit in the airport and wait for the storm to clear, or you could spend more money on a cheap rental car and drive, hoping the freeway won't flood too. That was always the better option as you knew in your heart that you had to do something to get to the next show on time, to do what you were born to do, what you loved.
Even if things work out and you get to where you want to go in time, as is becoming increasingly common these days, touring is still about waiting – waiting for the venue to open, waiting to get to the hotel, on waiting for the sound check First of all, wait until the hall has filled up – until you are finally out there and can play music to the people. All in all, I've spent way, much more hours killing time than making music.
After all the years I've spent looking for excitement, it feels great to sit quietly, look inward, think about the past, and dream about the future
Jimmy Barnes
Musicians kill time in different ways. Some write songs, watch TV, or fall asleep (always a good thing). Others keep fit by going to a local gym or jogging. Or visit the local attractions. In my early days, it all seemed a little silly, not rock and roll enough. And sleep was definitely overrated.
I preferred to go out for a drink and look for trouble. I was always the one who asked, "What's going on? What's happening? Where is the action? "Anything to use up my excess energy. Anything to satisfy my desires. Anything that keeps me from really looking at my life and the train wreck that was always going to happen.
I've held out for many years. But even I got tired of it. How much trouble can a man start? You get to a point where you either grow up or your liver asks for a transfer to Joe Cocker to rest. In order to direct my energies in another direction, I once trained karate. This killed two birds with one stone: I got fit and learned to kill more than time. It kept me alive, but it didn't keep me out of anger. Also, I am a pacifist at heart.
It was many years before I realized I was headed for disaster. Not only did I kill time, I killed myself and the people around me. So I left this life behind at some point.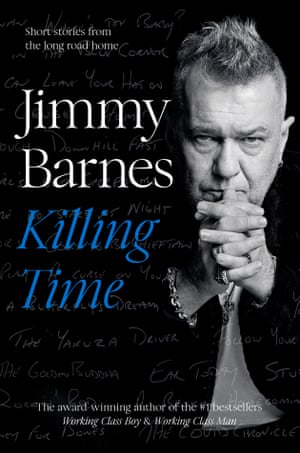 Writing his first two memoirs was like "pulling teeth," says Barnes. For the third time he was able to "take a lighter look back". Photo: Harper Collins
Now I spend a lot of time on the street reading and writing books. Don't tell me I have finally grown up! After all these years of looking around and looking for excitement, it feels great to sit quietly, look inward, think about the past and dream about the future. I've found a little peace these days. My world is still spinning, but it's not all about me anymore. Well not that much.
And I don't have to be in the middle of fighting my demons all the time. I can step back and let them fight among themselves. I have better things to do with my time. Every now and then I have to measure myself against the ghosts of my past, but they don't own me or overwhelm me. I look at them, see what I can learn from them, and then let go of them. You don't own me anymore.
Do not get me wrong. I am aware that these demons are still there. Addiction doesn't just lie down and make you go away. I know I need to keep my wits about myself, but I walk on my own two feet now. And after all these years on the road, all these years of drifting without the feeling of belonging anywhere, I finally feel like I've found my place in the world. I have a lovely wife and family who all love me and I love them with all my heart. I have friends who are important to me. I've stepped out of the shadows and I can feel the sun on my face and I like it. My head is held high and I look forward to what life has planned for me.
Of course I still write songs about the bad old days and try to understand everything. Songs about how easy it is to lose faith and hope and get into a downward spiral. Songs like Killing Time. I can write about things like that because I've been there. It's hard to look back too much, but I know it's healthy. While keeping track of where you are going, you need to remember where you have been.
Cold chisel kill time
Like many other things, writing is more of a pleasure these days. Putting my memoirs together was like pulling teeth at times. It was a harrowing exercise that almost killed me at times. But in these stories, while facing sometimes sad, frightening, and occasionally embarrassing episodes, for the most part I have been able to glimpse more easily and, while pondering some dark times, relive some of the funniest and most absurd moments of my life and recognize the joy Inspiration and friendliness that others have brought me on my long journey. This includes other musicians, roadies, producers, mentors, friends, sometimes complete strangers. And of course my wonderful family – would not have made it without them.
Thanks to all these people, I am no longer just killing time. No longer. Now every moment is precious.
Jimmy Barnes and Andrew Stafford will speak to you about Zoom at Guardian Australia's next book club, co-hosted by Australia At Home on Friday October 9th at 1:00 p.m. AEDT. To register, click here or stay tuned to see the video highlights.
• • Jimmy Barnes' Killing Time is now available at Harper Collins