Michelle Paver: Alaska's ice cave left me fizzing with concepts | Alaska holidays
W.It had flown over the ice field as it approached Juneau, and my spirits rose. Ice cream was what I came for. I needed a huge ice cave for the book I was writing, and I had arranged a guided hike to a glacier the next day.
I was on a month-long research trip to find my wolf brother's latest books, touring Alaska's Inside Passage and the remote Canadian islands of Haida Gwaii, which would have plenty of ice even in early summer. When the plane landed, I was concerned to find the temperature around 30 ° C. Tourists strolled around in T-shirts (I only brought one). Ravens – Juneau has many – panted on rooftops with wings half-spread to catch the breeze.
But from my room at the Goldbelt Hotel I could see snow on the surrounding peaks and had a great view of the harbor across the street. While I was unpacking, a whale bubbled and popped right outside my window.
I liked Juneau, Alaska's state capital. It has a fascinating maze of narrow streets around the waterfront. Among the usual souvenir shops I found an excellent bookstore, Hearthside Books; and I spent hours at two fascinating museums exploring Native American culture. Over the years, the First Nations of the Pacific Northwest have been an important inspiration to my Stone Age hunters and gatherers.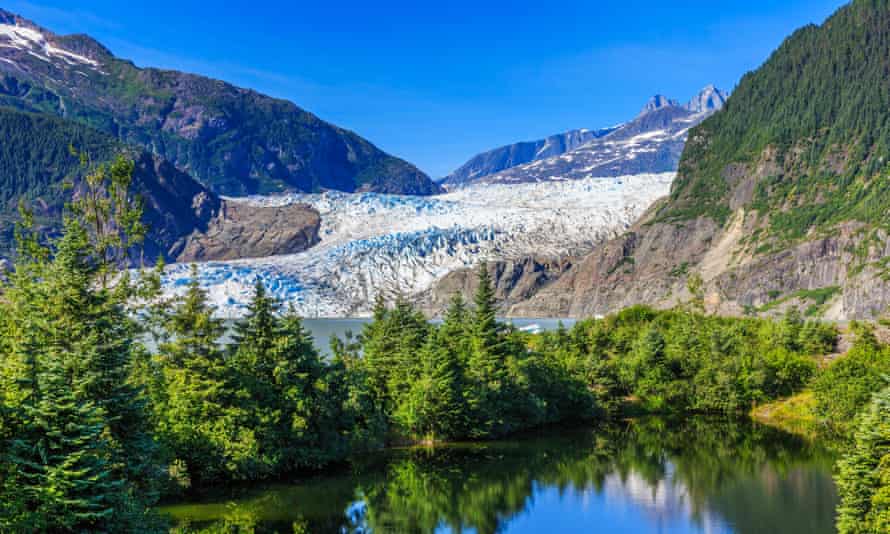 Mendenhall Glacier. Photo: Sorin Colac / Alamy
The next day the temperature had dropped to a far more acceptable 14 ° C: it was a foggy, cloudy morning, perfect for hiking. I was a little apprehensive while waiting to take a guided walking tour outside of the Twisted Fish canning factory because I very much prefer to hike alone. If my companions turned out to be talkative, that might get in the way.
I didn't have to worry. There was only one other hiker, Ryan, 28, from Sacramento and blissfully silent. Like our guide, Adam, 26, he was all about safety, which was fine with me.
After driving to the starting point and tying our helmets and crampons to our daypacks, we set out on the 90-minute hike to the glacier. Adam set a comfortable pace, and to my delight we saw no other soul as we climbed through mossy, pine-scented forests. We passed a beaver pond and climbed over misty rocks. Then we left the trees behind and there, looming over a jade green lake, was the glacier. His cold breath brushed my cheeks.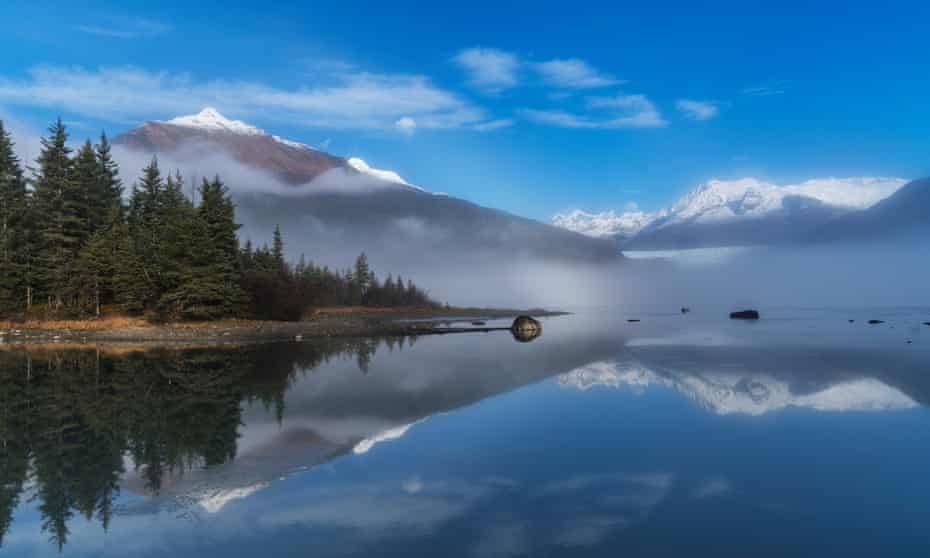 Mendenhall Lake, near Juneau. Photo: John Hyde / Design Pics / Getty Images
Every glacier I've ever come close to has been strange in its own way. Some make an otherworldly noise, like ice giants pounding to get out. Others are visibly more restless and calve mountains of blue-white ice into the sea without warning. The flanks of the Mendenhall Glacier were shimmering black, and next to a stream that seeped from its lower abdomen, we found something I had never seen before: a science fiction expanse of jelly-like, greenish-brown mud that shuddered as I pressed on my boot like it was alive.
We made a detour and climbed the glacier. The ice was wildly slippery and so hard that my crampons just bounced off it. Only when I was securely tied did I approach a moulin (a roughly circular shaft in the ice). A look into this dizzying hole was unsettling. If the rope failed, I would be of no help and would be swept to death under the glacier … I scribbled a note. Maybe I could use that in the book.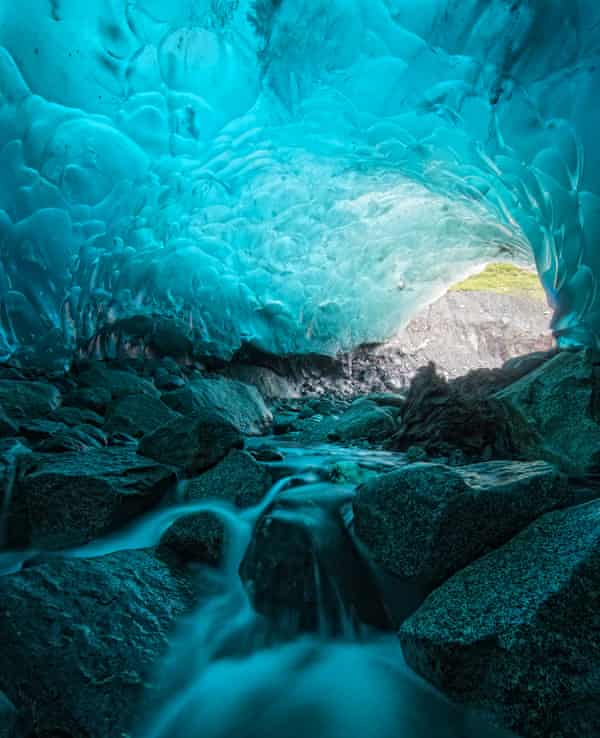 "A yawning mouth of darkness carved by a stream that thundered from a nearby mountain" – Mendenhall Ice Cave. Photo: Naphakm / Getty Images
And so, at last, to the ice cave: a yawning mouth of darkness carved by a current that thundered down from a nearby mountain. Adam hadn't ventured into it in a fortnight, and I could understand why: Large stones were falling from the slopes above the estuary, with jagged ice curtains hanging just waiting to collapse.
The sound of the stream was deafening, and at Adam's call we rushed into it – into an icy, echoing, hostile world of unearthly blue. Blue air, blue light, and above my head blue ice with whole boulders hanging in it. Rocks toppled underfoot as I crouched across the stream. I wasn't expecting that throbbing rush of water, that palpable sense of threat. I was very aware that there were millions of tons of chaotically moving ice above me.
I returned to my hotel room feeling cold and excited, full of ideas. I wrote my impressions from the fuzzy scribbles in my notebook. Then I went down to the water.
A cruise ship had just left and everything was quiet. I was talking to a Native American family who were feeding the ravens popcorn from a paper bag. They gave me the bag as they left and when I was feeding the birds a dog barked and one of the ravens barked back. I forgot that they are such good imitators. Something else I could use in the book.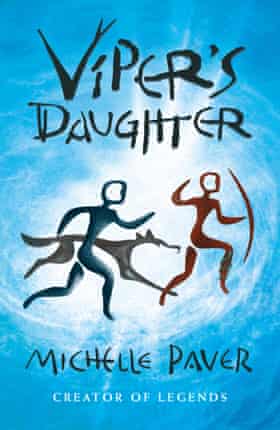 That's why I love research trips. It's not just the big experiences like this ice cave; It's the little unexpected details that spark an idea that brings the story to life.
This trip has been a while now and rereading my notes before writing this piece has plagued me because I haven't been anywhere since the pandemic. I love ice cream and I miss it. I know that I am lucky enough to live near forests and I know that at some point things will change and we can travel again. But I am greedy. I want icy peaks and vast, snow-covered forests. And glaciers.
Michelle Paver's Viper's Daughter is available now (Zephyr, £ 7.43 at GuardianBookshop). Your next book, Skin Taker, is Hardcover available April 1, 2021 (£ 11.30 at the Guardian Bookshop)